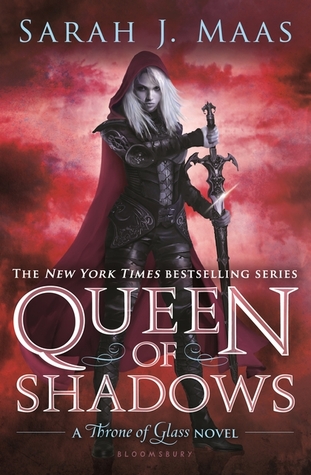 The queen has returned.
Everyone Celaena Sardothien loves has been taken from her. But she's at last returned to the empire—for vengeance, to rescue her once-glorious kingdom, and to confront the shadows of her past…

She has embraced her identity as Aelin Galathynius, Queen of Terrasen. But before she can reclaim her throne, she must fight.

She will fight for her cousin, a warrior prepared to die for her. She will fight for her friend, a young man trapped in an unspeakable prison. And she will fight for her people, enslaved to a brutal king and awaiting their lost queen's triumphant return.

The fourth volume in the New York Times bestselling series continues Celaena's epic journey and builds to a passionate, agonizing crescendo that might just shatter her world.
My Review:
I have waited a year for this book and was devastated when I finally got it that I couldn't read it because I had to read another book. I needed to lock the book away from myself whilst I read that book to stop myself reading it, it was
that
good.
The plot of this book was so fast paced and unpredictable that I barely had time to breath before we were off on the next problem/fight/adventure. We pick off about maybe three days from Heir of Shadows, maybe a little longer, it's kind of hard to judge. Aelin/Celaena is in a pub and that is about the only real calm that we get before everything goes to hell and a million question are raised. The fight scenes were some of the best in the series and were spread out well throughout the book so we never went too long before seeing someone's nose being smashed in. There were moments when I questioned what was going on. I knew that there was a plan. I just never knew what it was, that made a good surprise when something seems to go horribly wrong and you throw the book across the room, go to pick it up, keep on reading, and find out on the next page that it was all part of the plan. *sighs* If you have read the book you probably know what part that I am talking about...
Aelin/Celeana was different in this book, but in a good way. She seemed less sure in the decisions that she was making but she rarely looked back after she made them. She second guessed herself a lot less after a decision was made. She also seemed to step into the role of becoming Queen of Terrasen a lot better after she had finally accepted who she was at the end of Heir of Fire. Rowan was by far my favourite character in this book. We really got to see a lot more of him and his character development in this book was significant. You would never guess that he is the same character that we met just one book ago.
If you haven't read this book or this series yet, I do not know what you are doing with you're life. Why are you still reading this? Go! Buy it! Read it! Because I'm giving this book 5 out of 5 stars.