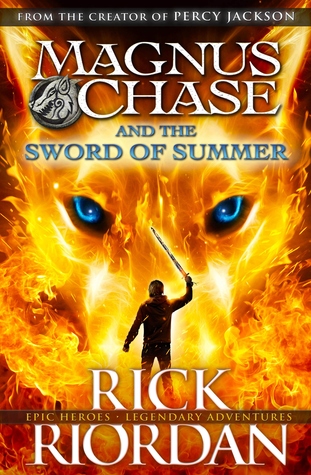 Book Blurb (from Goodreads):
Magnus Chase has always been a troubled kid. Since his mother's mysterious death, he's lived alone on the streets of Boston, surviving by his wits, keeping one step ahead of the police and the truant officers.

One day, he's tracked down by an uncle he's never met - a man his mother claimed was dangerous. His uncle tells him an impossible secret: Magnus is the son of a Norse god.

The Viking myths are true. The gods of Asgard are preparing for war. Trolls, giants and worse monsters are stirring for doomsday. To prevent Ragnarok, Magnus must search the Nine Worlds for a weapon that has been lost for thousands of years.

When an attack by fire giants forces him to choose between his own safety and the lives of hundreds of innocents, Magnus makes a fatal decision.

Sometimes, the only way to start a new life is to die . . .
My Review
Oh my gosh, this book is AWESOME!!!!!!! *breathes in* ASDFGHJKL. I can't even begin to comprehend the amazingness that is this book! Alright, I have to gather my thoughts about this book, I am still scatter-brained and have no clue where I should start...
Rick Riordan has written another magnificent book which I can't wrap my head around. I feel like I have a massive book hangover. Every time I think it is over, my brain keeps on going back to it and won't let go! Not that I mind of course... Anyways, if you can't tell from the whole rambling at the start, I absolutely loved this book. It has the same take a the Percy Jackson series, just with Norse gods. I didn't mind the similarities though because in some ways, it is still a completely different story. I felt though, that the beginning was a bit slow and the world-building could have done a bit more elegantly because some parts were more of an information dump than anything.
I really loved all of the characters. I don't even know who is my favourite anymore. Samirah was really awesome, even though she is pretty violent at the start. I love all of the gods, they were so awesomely portrayed. Magnus's narration was hilarious to read, especially with that snarky commentary and attitude. However, I did notice, that Magnus's voice is very similar to Percy's voice. I found that to be a bit of a downer even though I absolutely loved the narration. Magnus's commentary has
some
slight changes though.
Overall, I still loved this book, as I did Rick Riordan's Percy Jackson series. I think, that I felt that the start was slow because I was superhyped for this book and couldn't wait to read it. Everything, from the writing style to the story, was awesome even though Magnus seems to be very similar to Percy.
I give this book 4 out of 5 stars!