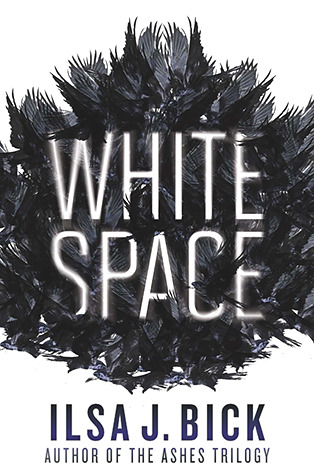 Book Blurb (from Goodreads)
Seventeen-year-old Emma Lindsay has problems: a head full of metal, no parents, a crazy artist for a guardian whom a stroke has turned into a vegetable, and all those times when she blinks away, dropping into other lives so ghostly and surreal it's as if the story of her life bleeds into theirs. But one thing Emma has never doubted is that she's real.
Then she writes "White Space," a story about these kids stranded in a spooky house during a blizzard.
Unfortunately, "White Space" turns out to be a dead ringer for part of an unfinished novel by a long-dead writer. The manuscript, which she's never seen, is a loopy Matrix meets Inkheart story in which characters fall out of different books and jump off the page. Thing is, when Emma blinks, she might be doing the same and, before long, she's dropped into the very story she thought she'd written. Trapped in a weird, snow-choked valley, Emma meets other kids with dark secrets and strange abilities: Eric, Casey, Bode, Rima, and a very special little girl, Lizzie. What they discover is that they--and Emma--may be nothing more than characters written into being from an alternative universe for a very specific purpose.
Now what they must uncover is why they've been brought to this place--a world between the lines where parallel realities are created and destroyed and nightmares are written--before someone pens their end.
My Review:
This book was very much as an impulse buy for me, the plot sounded interesting, and it was, but it was just confusing in the first couple of chapters.
The plot was like I said at the top, confusing for the first couple of chapters. You get thrown head first into this world, which isn't even the main world which you are going to be in, and more questions are generated in the first chapter then answers and it took us a long time to get those answers. Like around 200 pages later to get answers. For some people this may of been good and created suspense, but for me, because of all of these questions and confusions that were going on in my head I needed to be completely focused when I was reading this book so it made it much harder to get through. The plot took a while to speed up but all in all it was a generally slow moving book with some really fast parts and then some really slow parts as well. There were a lot of complicated explanations in this book throughout which you can sometimes not understand at first, and re-reading it sometimes does not help, but keep plowing through because usually the explanation will be repeated in a simpler way which is more easy to understand.
This book has it's share of characters and each character gets their own point of view. Because there was so many point of views it was hard to keep interested in all of the characters story's so to keep this paragraph short I am just going to keep it to the main character Emma. Emma is a science nerd with some mental issues. If I understood it correctly her dad throw her against the wall as a child and her head became filled with head fractures so she had to have surgery and was put in another home. I found it easy to relate to Emma in certain situations when she started to talk about science but in other times not so much but that was okay most of the time. If I am honest I didn't really care about the characters much and found that when one of them died, which of course had to happen, I wasn't sad and really just wanted the story to go on. I think that it is safe to say that this is more of a plot driven book then a character driven one.
All in all I give it 3 out of 5 stars.