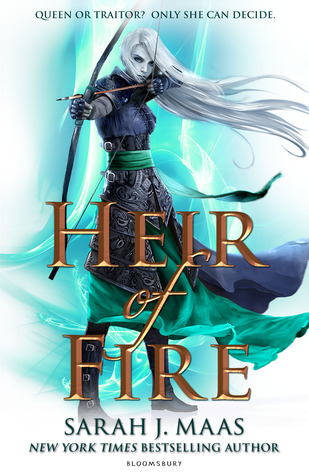 Book Blurb (from Goodreads):
Consumed by guilt and rage, Celaena can't bring herself to spill blood for the King of Adarlan. She must fight back...

The Immortal Queen will help her destroy the king - for a price. But as Celaena battles with her darkest memories and her heart breaks for a love that could never last, can she fulfil the bargain and head the almighty court of Terrasen? And who will stand with her?
My Review
Where. Is. The. Next. Book?
I am officially addicted to this series. I feel like I need to get my hands on the next book right now or I will die. And we wouldn't want that, would we? Read this book. I need someone to talk to. So much happened in this book it is unbelievable.
The basic plot of this book is, that Celaena was sent to Wendlyn on a mission to assassinate the King and Queen of Wendlyn so that the King of Adarlan can easily conquer Wendlyn.
This book could be separated into three different stories: Celaena's, Dorian's and Chaol's, and a witch called Manon. I will give a brief summary and explanation for each of them.
First Celaena's story. As I already said, Celaena goes to Wendlyn. While we are reading Heir of Fire, Celaena starts facing her fears, working on her magic and we learn a lot more about her history. At the beginning of this book, she was an arrogant young girl who was scared of her own destiny. Nearing the end of Heir of Fire, her personality completely changed and she truly becomes the Heir of Terrasen. There is some serious character development going on here. I must admit, that I was not that happy about Celaena being in Wendlyn. She doesn't belong there! That's why it took me a bit longer to get into the book than it was supposed to.
Dorian's and Chaol's story is taking place in Adarlan, in the palace. Dorian's life becomes terrible, the worst it could possibly get. Meanwhile, Chaol discovered who Celaena really is and is battling with his feelings for her. Their stories weren't that interesting until the last couple of chapters.
Manon on the other hand was an amazing character. As I said at the start of this review, she is one of the Ironteeth witches. There are three different clans of these witches: the Yellowlegs, Bluebloods and the Blackbeaks, the clan to which Manon belongs to. She is the heir of the Blackbeaks and also the leader of the cloven called the Thirteen. And Manon is just pure wicked, she has no soul. At first I was confused as to why the story was now told out of the witch's perspective but then I remembered the incident with Baba Yellowlegs from the last book and decided that Manon's perspective wasn't that irrelevant. By the second chapter, I couldn't wait to read more about Manon's story. Basically, all the witches were called together to perform in the War Games, so that the King of Adarlan could also have a witch army. As a bait, the King offered all of them to choose a beast for themselves called wyvern. Manon was a very interesting character and I really got to like her a lot.
I also love the writing style of the book. Sarah J Maas created a series, which never let you go, it never got boring and the way she writes is amazing. I found, that Sarah J Maas uses pretty dramatic verbs and adjectives to make the scene come to life. Action is literally exploding from every page and the plot twists are mind blowing. You try to anticipate what is going to happen next, but the story is unpredictable. Anything could happen.
The ending was so beautifully written, but I still need to know what is going to happen next. I am waiting for the next book! This book gets 5 out of 5 stars!