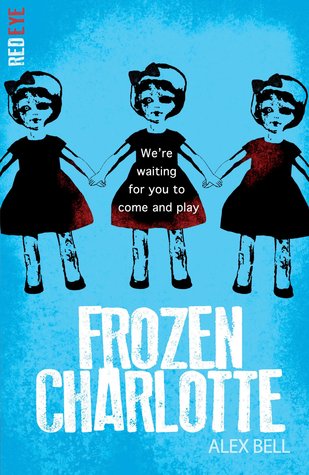 Book Blurb (From goodreads)
We're waiting for you to come and play.
Dunvegan School for Girls has been closed for many years. Converted into a family home, the teachers and students are long gone. But they left something behind...Sophie arrives at the old schoolhouse to spend the summer with her cousins. Brooding Cameron with his scarred hand, strange Lilias with a fear of bones and Piper, who seems just a bit too good to be true. And then there's her other cousin. The girl with a room full of antique dolls. The girl that shouldn't be there. The girl that died.
My Review:
This review took me almost a week to write causing me to miss my usual Friday review. I am not so sure if that is a good thing or a bad thing but this book defiantly played with my mind.
The plot in this book was fast paced most of the way through with only a couple chapters here and there where it slowed down. The chapters where the plot slowed down were usually the chapters where we got crucial information to help progress the story further and give it more depth. As you go deeper and further into the story it gets creepy and makes you question exactly what you know about the character because no one is ever as they seem. The second last chapter in this book where you find out what happened to the characters something like six months later was rushed and crammed with information. It defiantly was not as well written as the other chapters.
Sophie was a slightly curious character, although her curiosity sometimes made her stupid as it does with most main characters in horror books. Here a bang on the door which is probably the creepy dolls? Let's go check it out? They are probably a mad person that likes to kill and hurt people? Tea party time! Seriously. The sub characters each had their own background and were complicate and hard to understand on so many levels. I don't even feel like I know them now after I finished the book.
All in all I give this book four out five stars.