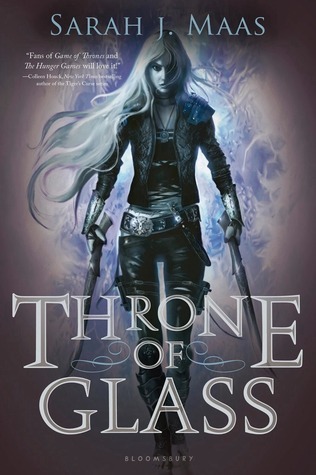 Book Blurb (from Goodreads):
In a land without magic, where the king rules with an iron hand, an assassin is summoned to the castle. She comes not to kill the king, but to win her freedom. If she defeats twenty-three killers, thieves, and warriors in a competition, she is released from prison to serve as the king's champion. Her name is Celaena Sardothien.

The Crown Prince will provoke her. The Captain of the Guard will protect her. But something evil dwells in the castle of glass--and it's there to kill. When her competitors start dying one by one, Celaena's fight for freedom becomes a fight for survival, and a desperate quest to root out the evil before it destroys her world.
My Review
Jessie and I decided to recommend books to each other again because we wanted to have more books in common and read books that the other has read and enjoyed already. In case you don't know how we recommend books, basically each of us recommend three books to each other and then we have to pick one of them which we must read. So, I chose Throne of Glass, because Jessie was always rambling on about how awesome this book
was and I always wanted to read it.
The basic plot of the book, is that we are in a fantasy world. The continent is called Erilea and there are several countries like Terrasen, Adarlan, Eyllwe and others. The king of Adarlan conquered the other countries though and is currently at war with Wendlyn. In the Salt Mines of Endovier, the assassin Celaena Sardothien is called to him to take part in the Royal Competition to become the King's Champian because he wants an assassin to get rid of any opposition.
So anyway, while I was reading it, Jessie asked me if I came to the bit yet, where Celaena is giving Chaol a piece of her mind and then I answered "When
isn't
she giving someone a piece of her mind?" That brings us to the characters. Celaena is the best. Why? Well, first of all, she has so much sass and every time she argues with Chaol or Dorian, it is always so very hilarious. She has awesome skills, amazing comebacks, and she loves books and chocolate! It can't get better than that. And I just like her personality, she is strong and does what she thinks is right, even though Chaol always gets mad at her. But then I always find it hilarious when Chaol gets furious.
Now, next topic: this book has an obvious love triangle between Celaena Sardothien, Chaol Westfall and Dorian Havilliard. The question is whose Team I am on. Until about three quarters through the book, I wasn't on any Team and that was because someone else was my current favourite character. It was Nox Owen, the master thief of Perranth. Nox Owen and Celaena, anyone? No? Just me? I liked him because he was just an awesome character, and very likable and I guess I just like thieves. But then there were sad moments with Dorian and Chaol and I decided to finally be on Team Chaol. I thought that Dorian was nice and funny, but Chaol can be sweet and kind and he can joke sometimes but is mostly very serious. Team Chaol!
I can't describe the feeling when I read this book. It is like a sense of anticipation that is bubbling up every so often, making you feel giddy. Especially when there are moments when you think:"How could this possibly end well?" It has been a long while since I have felt so strongly about a book, that I just couldn't put it down. There were moments when the suspense was so strong, that you were literally tearing through the pages.
Sarah J. Maas has created an amazing book, that I recommend everyone to read, it doesn't matter if you don't like the genre. Read it! I definitely give it 5 out of 5 stars!