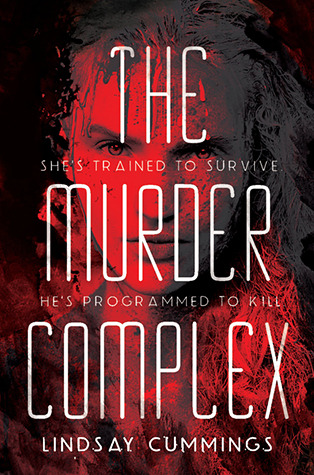 Book Blurb (From Goodreads)
Meadow Woodson, a fifteen-year-old girl who has been trained by her father to fight, to kill, and to survive in any situation, lives with her family on a houseboat in Florida. The state is controlled by The Murder Complex, an organization that tracks the population with precision.
The plot starts to thicken when Meadow meets Zephyr James, who is—although he doesn't know it—one of the MC's programmed assassins. Is their meeting a coincidence? Destiny? Or part of a terrifying strategy? And will Zephyr keep Meadow from discovering the haunting truth about her family?
My review:
This book has been on my goodreads to-read list for such a long time that I just had to read it. It took me 3 days to finish it, and to be honest I didn't even realize how far I was into the book until I finished it. It was a really quick and exciting read.
The plot was fast paced from start to finish. It was a tiny bit confusing at the beginning because it was hard to see what everyone's true intentions were. Nobody was who they seemed in this book, not even Meadow or Zephyr. The action in this book was well spread out, meaning that we never got a boring chapter. When there was not action we were getting important information to move the plot along. There was a great plot twist at the end which I love and that ending just kills you in a good but also really bad way. Cliffhanger. I cried so many times in this book. I can't explain how fast a read this book is, you really just have to experience it yourself to understand.
The characters in this book felt so realistic. Meadow, to me, was easy to relate to. She was always trying to act so strong that I think that she sometimes forgot that he was human too. The parts of the book where she broke down were both touching and heartbreaking. Throughout the book you could see how dedicated to her family she is. She would die for them and almost does on countless occasions. At the beginning of the book she was so desperate to impress her Farther, although as the book progressed you could see her becoming even more independent and moving away from that need to impress him. Zephyr was a completely different story to Meadow. I don't think that he knew
how
to hide his feelings. You could see that he was so broken inside because of the people that he was forced to murder. He tried to be strong around other people but he was not fooling anyone. He was a strong, almost fatherly, role-model for Talan. Although I do think that sometimes he needed Talan more than anything to hold himself together. If it were not for Talan I think that he probably would of died years ago. It is, in my opinion, thanks to her that we got to see him throughout the book in one piece. The relationship between Meadow and Zephyr sometimes did feel a little rushed and at times forced. It took them 5 pages after they met to fall in love, two pages after that to hate each other but after that it felt well paced.
Finally is seriously enjoyed this book and I give it 5 out of 5 stars: