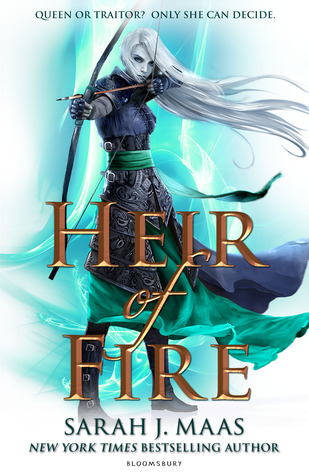 Book Blurb (From Goodreads)
Consumed by guilt and rage, Celaena can't bring herself to spill blood for the King of Adarlan. She must fight back...
The Immortal Queen will help her destroy the king - for a price. But as Celaena battles with her darkest memories and her heart breaks for a love that could never last, can she fulfil the bargain and head the almighty court of Terrasen? And who will stand with her?
My Review:
I was looking forward to reading this book the moment that I has bought it. After the ending of Crown of Midnight the wait was torture.
The book moved slowly at the beggining and I have to admit I did not really enjoy the wait until the action started. The action started around the last 200 pages. There were also some new characters introduced. The main new ones were Rowan and Manon. Manon did not have anything to do with what had happened in the other books. Her story was not as interesting as I had hoped it would turn out to be and I found that it was a little bit difficult to read the chapters about her without drifting off. Although I do think that her story would be better as a novela to go along with the series. I do not see how her story helped move the plot along. That is my only complaint about this book.
Celaena at the beginning of this book was annoying in her grief. She was not herself and was often not thinking straight. The further through the book we got, we could see her develop into an even stronger character then she was at the beginning of the series. It was nice to see her not holding back for once. She was finally embracing who she was. She also developed aspects of herself which made her more relatable. We got to see a lot of Chaol in this book. He developed a strong rebellious side which was good to finally see in him. I was annoyed with him however, because he did not know what side he wanted to be on. Throughout the book he was on the fence between the two sides and loyal to two different people with different intentions and at the end he finally tipped. We did not get to see a lot of Dorian in this book. Although we did see enough of him to realize that he was developing into someone who would make a strong king for the land. He managed to get control of his magic with little explanation which I still find confusing and do not know how he managed it. He found a new romantic interest in this book, which was good for him. I think that it defiantly helped him through these tough times and to forget about his relationship with Celaena. Rowan is a new character that has come into the plot. I never knew what to think of him. Since he was Fae, he was unpredictable. One minute you hated him the next you liked him. He was hard on Celaena, but he always had good intentions. He is still a mystery, there were some precious moments when we saw from his perspective. Even then we didn't fully understand his actions (most of the time), but we did see what was going on in that head of his. Manon is an Ironteeth Witch, in the Blackbeak clan. She was suppose to be heartless and cold but as the book progresses you can see her soften and become more calm. She has anger built up inside her which she needs to let out, in order to fully embrace her less 'cold' characteristics. You could see that she cares deeply for those around her which is evident in her last chapters. Even though she is sometime interesting to read about, I am not sure if i would be happy to read about her in the next book though, because of her irrelevance to the progression of the plot, although this may change in the next book.
All in all I give this book 4 out of 5 stars: