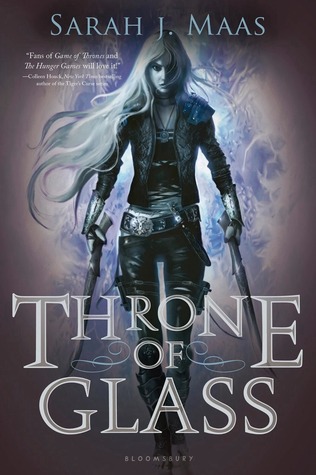 Book Blurb (from Goodreads)
In a land without magic, where the king rules with an iron hand, an assassin is summoned to the castle. She comes not to kill the king, but to win her freedom. If she defeats twenty-three killers, thieves, and warriors in a competition, she is released from prison to serve as the king's champion. Her name is Celaena Sardothien.
The Crown Prince will provoke her. The Captain of the Guard will protect her. But something evil dwells in the castle of glass--and it's there to kill. When her competitors start dying one by one, Celaena's fight for freedom becomes a fight for survival, and a desperate quest to root out the evil before it destroys her world.
My review:
Best high fantasy book out there? Most likely. Why do I always put of reading the best books?! That is a serious habit that I need to break really soon, like yesterday soon.
The plot in this book was so existing that I was shaking from adrenaline about 200 pages in. I would close the book and 'try' to sleep but I was still so hyped up from the book that I felt like it was nearly impossible. It took its time to develop and never got boring. We went from one problem to the next with ease, even when things sped up and you could still see two clear paths and that allows you to pray with all you have that I does not go down the second. On a scale from 1-10 for creativity I give it an 11.
The characters were awesome. We had a nice cosy little group of 3 main characters and many sub characters. Celaena was an awesome kick-ass character with an interesting mind in terms of how she regarded people and different situations. She was fairly relatable in the terms of her hobbies (reading) but not much else. She went through different situations and came out almost laughing and I respect her for that. I wasn't sure what to think about Chaol. His intentions were sometimes unclear but by the end you could clearly see that he actually did have feelings for Celaena but never fully acted on them which made things interesting and sent mixed signals to her which is why she probably hated him for the first quarter of the book. Dorians intentions however were clear. He was not my favourite character but he did treat Celaena well (at the end). I liked how we continuously got a peak at his life a court which was always interesting and allowed us to get a better perspective on what was really going on inside the castle. I wish that Chaol and Dorian's friendship was better shown and we had a scene were that just talked together without it being about Celaena. It probable would have done them both good. Nehemia was defiantly 100% my favourite character. She was a mystery up to the very end and a great friend to Celaena. I honestly hope that we get to see so much more of her and learn more about her origin.
I you want a seriously action packed book to read but have not read this one yet, get on it.
I give this book 5 out of 5 stars, it was amazing!