Book blurb (from goodreads)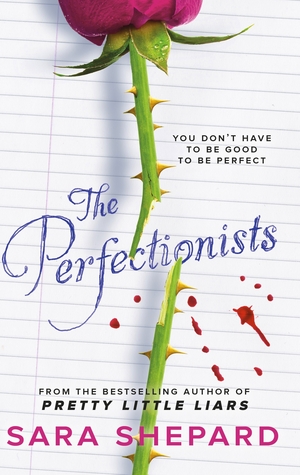 In Beacon Heights High, Nolan Hotchkiss is king. His charm, wealth and good looks are deceptively seductive, and many are the students whose lives and reputations have been ruined by it. All while Nolan continues to reign, unquestioned and undisrupted. Until now, that is.
Mackenzie, Ava, Julie, Caitlin and Parker seemingly don't have much in common. Each has their own friends, dramas and goals. But one thing they do share: they all have a deep hatred of Nolan Hotchkiss. And they all think it's about time he paid for what he's done. They come up with the perfect murder - a hypothetical murder, of course. It's all wishful thinking ... until they wake up one morning to find that their wish has come true. Nolan has been killed - in exactly the way they planned. The thing is, they didn't do it. So who did?
My Review:
Hmmm, where do I start?
The Perfectionists
has been compared a lot to the
Pretty Little Liars
series also by Sara Shepard but since I have not read that series yet this review will be comparison free (yay!)
This book has a very interesting plot. I haven't read many murder books but this one has got me wanting more. At first it seemed like they actually
did
kill Nolan Hotchkiss but then you find out what had actually happened. The plot never got boring, the last 60-70 pages where super suspenseful and I actually thought that they where going to go to jail. The writing in this book flowed nicely and was extremely easy to get through. This book was defiantly a page turner from start to finish.
Each character in this book had a back story of their own. Each back story was unique and you could really see how it affected the person that they became. I loved Parkers character the most. She came off as a really strong person who can get herself out of any situation. She had a hard family life and is 'damaged' physically and mentally, yet she makes it through every day. Not as in she is living life to the fullest but she still makes it.
On the negative side of things I did find it a little hard to tell who was talking and had to always look for a name on the page. I think that it would have helped if every chapter had the name of the person who was speaking at the top. Just something for the people to consider when they make the much needed next book.
Finally
I would like to say that it is not okay to end a book like that when the next book comes out June of next year!
I give this book 4 out of 5 stars: