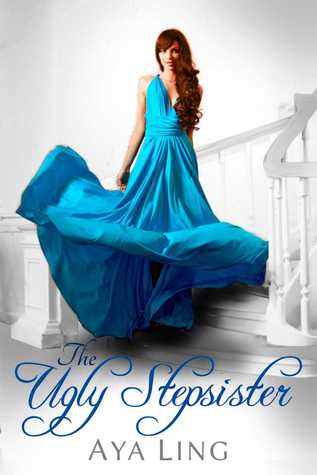 Book Blurb (from Goodreads):
When Kat accidentally rips apart an old picture book, she's magically transported into the world of Cinderella--as Katriona, one of the ugly stepsisters! Life turns upside down now that she's a highborn lady and must learn how to survive the social season, including how to get through the door in a huge metal hoop skirt. To get back, she'll have to complete the story, right to the end of happily ever after. But the odds are huge: the other stepsister is drop-dead gorgeous, the fairy godmother is nowhere to be found, and the prince, despite being insanely hot, openly dislikes balls. Can she ever return to the modern world?
My Review
***I received the eBook free as a review copy through Xpresso Book Tours in exchange for an honest review***
This is one of the best fairytale re-tellings that I have ever read.
It is about a seventeen year old girl called Kat, who is very shy and isn't very pretty. Unlike her sister who already outshines her at ten years old. Kat then accidentally destroys a old book which tells the story of Cinderella. She is transported into that world and becomes Katriona Bradshaw, one of the ugly stepsisters. To return to her own world, she has to complete the story right up to the happily ever after. This version of Cinderella has its own little twists and turns though.
This book captivated me from the very first page. Kat's perspective was interesting and her thoughts while experiencing certain events were amusing. I really loved the concept as well; this version of Cinderella with its own plot twists was very entertaining to read. I could foresee some of the major plot twists and despite that I was still very satisfied reading about them. The ending was also so bittersweet! It was kind of cliche and also original.
Kat was your typical shy girl at the beginning of the book which left plenty of room for character development to take place. She changed into a strong, independent woman with a nice personality. I thought that considering that she reads a lot of books, she should be able to foresee the twists in this Cinderella but Kat just seemed so naive and ignorant to the story. I really liked the prince himself, because of his personality. He is made out to be a distant and faraway figure but once you get to know him he is a really sweet guy with a cool sense of humour.
The writing style was very personal. You really got to know Kat, since the book was told out of her perspective. She has an attitude and her humour is also enjoyable to read about. She shares her thoughts in an entertaining manner. The whole combination of everything made me want to continue reading this book and was almost impossible to put down.
Overall, I was surprised by how much I enjoyed this book. It was captivating from the very first page and the characters were all very well developed. Even though the plot twists were predictable I still really enjoyed this book. I loved this! I give this book 5 out of 5 stars!