Every Tuesday Diane @
Bibliophile By the Sea
hosts a weekly meme called First Chapter First Paragraph Tuesday Intros. Basically, this is when you share the first and maybe the second paragraph of the book you are currently reading or want to read soon.
Teaser Tuesdays is a meme hosted by MizB @
A Daily Rhythm
, where I need to open a book to a random page and pick two spoiler-free sentences.
• Grab your current read
• Open to a random page
• Share two (2) "teaser" sentences from somewhere on that page
•
BE CAREFUL NOT TO INCLUDE SPOILERS!
(make sure that what you share doesn't give too much away! You don't want to ruin the book for others!)
• Share the title & author, too, so that other TT participants can add the book to their TBR Lists if they like your teasers!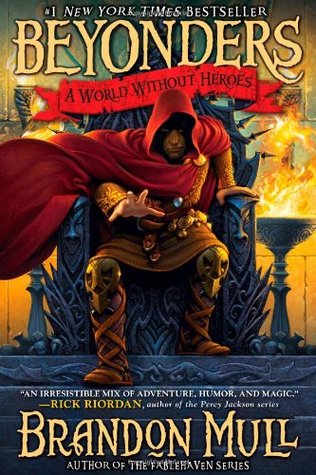 I just recently got this book from the library. I have always wanted to read a book by Brandon Mull!
PROLOGUE
The prince dangled in the darkness, shoulders aching, ancient manacles digging into his wrists as he tried to sleep. The chains prevented him from lying down. Whether it was truly light or dark he could not say, for his enemies had stolen his sight. In the distance he heard screaming—the unrestrained wails of a man trying and failing to escape the deepest agony. The unnerving cries echoed from higher corridors, dampened by intervening barriers. After untold weeks in the dungeons of Felrook the prince could guess what the man might be feeling. Never had the prince imagined anguish so diverse and exquisite as he had experienced here. He stood up straight, taking some of the pressure off of his wrists. If they kept him chained here much longer, he felt certain his arms would detach. Then again he preferred his current accommodations to the previous room, where the floor bristled with sharp, rusty spikes, and lying or sitting required bloodshed.
TEASER
"Hello!" he called out, knowing it was pointless. "I want to go home! Hello! Hello?" He blinked back his tears, trying to get his emotions under control. None of this made any sense, but he had to calm down; he had to figure this out if he ever wanted to see his friends again, his parents, his family.
~ pg. 39
What do you think? Would you read it?