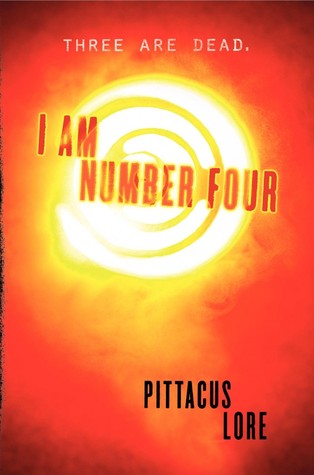 Book Blurb (from Goodreads):
Nine of us came here. We look like you. We talk like you. We live among you. But we are not you. We can do things you dream of doing. We have powers you dream of having. We are stronger and faster than anything you have ever seen. We are the superheroes you worship in movies and comic books--but we are real.

Our plan was to grow, and train, and become strong, and become one, and fight them. But they found us and started hunting us first. Now all of us are running. Spending our lives in shadows, in places where no one would look, blending in. We have lived among you without you knowing.

But they know.

They caught Number One in Malaysia.
Number Two in England.
And Number Three in Kenya.
They killed them all.

I am Number Four.

I am next.
My Review
This book was pure awesomeness. Why didn't I read it any sooner?!
I have no idea why I put off reading this book for so long, it is so good! At first I was skeptical, wondering if I would like this book, because I was unsure about the sci-fi aspect of this boo with all the aliens and their superpowers.
This book is about a war waging between the Loric and the Mogadorians. Some of the Loriens fled from their destroyed planet to Earth. These Loriens are in the process of developing Legacies (superpowers) and could only be killed in order of numbers. The first three have been killed and now the Fourth one is in the most danger. However, the small town of Paradise proves to be a big distraction to him.
I absolutely loved this book from the very first page. It was so captivating and exciting to read and the plot was awesome. There were new things to look forward to at every bend, corner and plot twist and new problems arise all the time. The world-building was also excellently done and not confusing at all.
The characters were also really different. However, I thought that Sarah was a bit too nice at first. She is really charismatic and friendly to everyone. She immediately talked to John Smith (Four) and is humourous. John was a great character and very exciting to read about. His adventures and narration are very intriguing and a bit funny as well.
Overall, I absolutely loved this book. It was action-packed and exciting to read from the very first page on. I can't wait to read the next book in the series. I give this book 5 out of 5 stars!