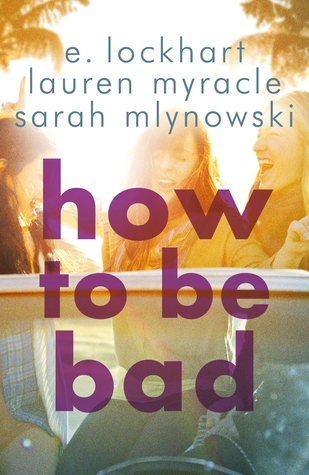 Book Blurb (From Goodreads)
When you've had enough of being good, sometimes you've got to try a little bad...
Jesse, Vicks and Mel couldn't be more different. Jesse, a righteous Southern gal who's as thoughtful as she is uptight, is keeping a secret that she knows will change her life forever. Vicks is a wild-child: seemingly cool, calm and collected on the outside, but inside she's furious at herself for being so anxious about her neglectful boyfriend. And Mel is the new girl in town. She's already been dismissed as just another rich kid, but all she wants is to get over some of her fears and find some true friends.
But for all their differences, the girls discover they've got one thing in common - they're desperate to escape. Desperate to get the heck out of Niceville and discover their true 'badass' selves! Even if it's just for the weekend... One 'borrowed' car later, it's time to hit the road and head for Miami. Hearts will be broken, friendships will be tested, and a ridiculously hot stranger could change the course of everything.
My Review:
I saw this book in the book store and immediately picked it up when I saw that E. Lockhart was one of the authors in it and she has never let me down (yet...). This book was told in a different way to the average book. There are three different perspectives (Jesse, Vicks and Mel). Each author wrote a different perspective E. Lockhart did Vicks, Lauren Myracle did Jesse and Sarah Mlynowski did Mel. You know that problem which books sometimes have because two different perspectives sound too similar? This book didn't have that.
The plot of this book was slow paced, but that was to be expected since it is a road trip book. It's main focus in the characters and how the develop over the time that they are together and how their friendship grows stronger with every problem that they encounter. There were also a lot of laugh at loud moments and times were you have to lean back and say, I can't believe that she just did that.
All of the characters were well rounded but I think that the character that interested me most was Jesse, and no, it isn't because she has the same name as me (okay maybe that has a
little
bit to do with it...). Out of the three Jesse defiantly had the hardest life and problems and it was the way that she coped that was interested. Instead of hanging on to Vicks she hung on to her faith and turned into the good girl that she thought that she had to be. This caused her to become very restricted in what she did, to put it lightly. You could see the most character development with her during the book as she learned to open up again and becomes a little bit more fun. Vicks was by far my favourite character and it may have something to do with the fact that she was written by E. Lockhart. She was the comedy relief of the book and you could always rely on her to loosen up the moment with a joke or changing the topic to something else. Finally Mel was the rich girl that just wanted to escape her perfect life by acquiring two not so perfect friends that brought her on one hell of an adventure. At the beginning of the book she was more shy and less out going and Vicks really helped her change that and to come out of her shell. to sum it all up, everyone in this book relied each other one way or another (hey look! I'm rhyming!) and if you removed one of them from the equation you would have an entirely different outcome.
All in all I give this book 5 out of 5 stars.