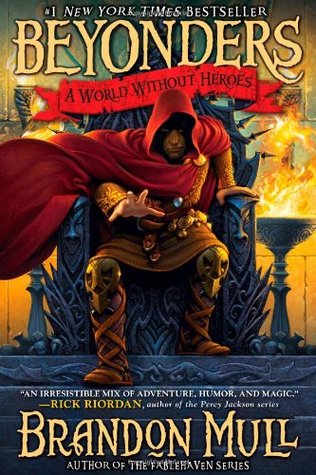 Book Blurb (from Goodreads):
Jason Walker has often wished his life could be a bit less predictable--until a routine day at the zoo ends with Jason suddenly transporting from the hippo tank to a place unlike anything he's ever seen. In the past, the people of Lyrian welcomed visitors from the Beyond, but attitudes have changed since the wizard emperor Maldor rose to power. The brave resistors who opposed the emperor have been bought off or broken, leaving a realm where fear and suspicion prevail.
In his search for a way home, Jason meets Rachel, who was also mysteriously drawn to Lyrian from our world. With the help of a few scattered rebels, Jason and Rachel become entangled in a quest to piece together the word of power that can destroy the emperor, and learn that their best hope to find a way home will be to save this world without heroes.
My Review
This was an amazing book. I loved every single page and every second reading it.
I have wanted to read this book for quite a while already. Basically anything to do with magic, evil emperors who need some overthrowing and an epic quest. Everything about this was awesome.
This book
A World Without Heroes
tells the story of how a normal boy called Jason gets sucked into a magical world called Lyrian. There he accidentally stumbles across the beginning of a secret word that could defeat the tyrannical ruler but marks him for immediate execution. On this world he meets Rachel and together they desperately try to save their skin.
The world-building itself was done excellently. Nothing was too rushed or anything. It was amazing to see a complex world being created without any info-dumps. I could imagine the world passing by around me through Jason's eyes, even though it is vastly different from our own world. The author made a great job of continuously introducing new elements to this new world to always build on the experiences.
The characters were also very three dimensional and I could relate to them. I loved Jason's wry sense of humour. He is sarcastic and his narrative voice made the book very entertaining to read. There was a wide variety of different characters though. Rachel was mostly serious but she could be sweet and sincere if she wanted to be. Both of them care a lot for their friends and family, which was a nice touch. Despite all that, I think that I still like Jason the most. His attitude was just really endearing.
The book was a joy to read from start to finish. The excellent writing style made it exciting and not boring at all. Even the beginning was a pleasant start and intro to the story. I can't wait to grab the second book! I really recommend this book to anyone who likes fantasy and an exciting adventure that will pull the reader into the story and never let go.
I give this book 5 out of 5 stars!