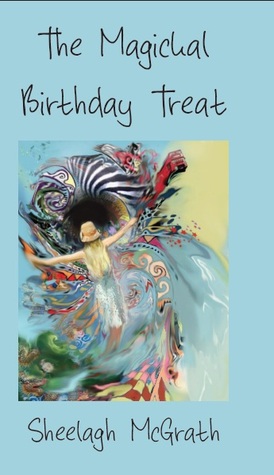 Book Blurb (from Goodreads:)
Jessica enjoys a Magickal Birthday Treat with her Grandmother, Nonni, on her eleventh Birthday. Arriving at Jess's house in Massachusetts, USA, Nonni has some surprises in store for her Granddaughter. They zoom around the World, visiting many places in only a few hours, dimension-hopping, time-hopping and culture-hopping. Visiting Europe and its historical past, Africa and its wonders and Asia, past and present! They travel in a mysterious manner, which is both exciting and daunting, somewhat like Nonni and Alex, in the first book of the series. Along the way, Nonni teaches her Granddaughter a smattering of history, of people and places, the importance of family values and about metaphysics; energy, manifestation, empowerment and Universal Oneness. All of this experienced with fun, a little fear and oodles of excitement.
My Review
***I received the eBook free as a review copy from the author/publisher in exchange for an honest review***
This was a sweet book which would be really appropriate for younger readers.
I enjoyed reading this book, even though I thought that it isn't really meant for readers of my age group or Young Adult readers. This story might be more adequate for children who like to read a short story about magic and the mysteries of life. There were certainly a lot of life lessons and education in this book and also several theories. All of this is explored when Jessie, the main character of this story, is having her 11th birthday treat and goes on a life-changing experience with her grandmother.
This book actually was really deep. There were several philosophical lessons. However, I thought that several of these lessons would be slightly too complicated or difficult to understand for the younger audience, which I think this book would be more appropriate for. The idea was really sweet and reading about the relationship that Jessica and her grandmother have is also quite heart-warming.
The characters were sweet, but I still felt that they were kind of 2-D to me. Jessica was a cute girl with an adorable personality and a good heart. However, she was a bit too hyper and over-happy for me; she was giggling a lot and changed her mood every couple of pages. I also felt that her grandmother, who Jessie calls Nonni, was a stereotypical grandma with tons of grandchildren, a happy family and an abundance of love for Jessie, as Nonni shows very often throughout the story. She is also the one who understands all the philosophical stuff.
Overall, I thought that it was a sweet book with a unique and philosophical take on magic and family. Sometimes I felt the writing and the descriptions were a bit dull though and at times I felt that the love between Nonni and Jessie was expresseda bit extremely. But then again, I need to consider that this book is not really aimed at my age group and what I find dull, might be very interesting and exciting for younger children. Therefore I was wavering between 3 and 4 stars, but because of that reason I decided on 4 stars!