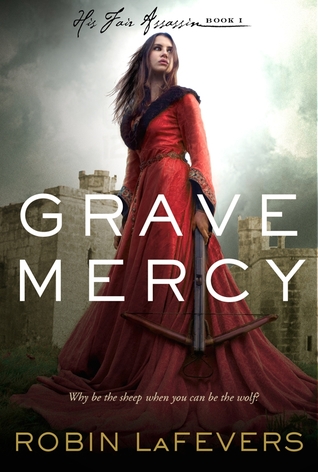 Book Blurb (From goodreads)
Why be the sheep, when you can be the wolf?
Seventeen-year-old Ismae escapes from the brutality of an arranged marriage into the sanctuary of the convent of St. Mortain, where the sisters still serve the gods of old. Here she learns that the god of Death Himself has blessed her with dangerous gifts—and a violent destiny. If she chooses to stay at the convent, she will be trained as an assassin and serve as a handmaiden to Death. To claim her new life, she must destroy the lives of others.
Ismae's most important assignment takes her straight into the high court of Brittany—where she finds herself woefully under prepared—not only for the deadly games of intrigue and treason, but for the impossible choices she must make. For how can she deliver Death's vengeance upon a target who, against her will, has stolen her heart?
My Review:
The first thing that you notice about this book is how big it is. And from the perspective of a person that is just coming out of a reading slump it seemed pretty daunting when I took it of my shelf. But then I opened it and started reading...
The plot of this book was thick and complicated and dealt a lot with politics and religion. It follows Ismae, a girl from a small town who's farther hates her guts. After an arranged marriage goes wrong she finds herself in the coven of St. Mortain, the god of death. He she learns that she is one of his 'daughters' and is
encouraged
to join the coven and serve him. From there she is thrown into two assassination missions, on her third she is thrown into the royal court with Duval as his mistress. The politics of court and intriguing since you never quite have all of the pieces. Just when you think that you have it all figured out, the circumstances change or someone dies or goes missing or gets poisoned or all three.
Ismae is often not very street smart. Despite her intensive training in all things murder in the convent she often finds herself unprepared for unexpected scenarios and does not know how to act in them. This does make for a humorous read sometimes but other times you just want her to figure it out. However, it terms of logic and problem solving in a larger scale she figures out the mystery of the book faster than you would expect and before any of the people that you would expect to do.
All in all I give this book 4 out of 5 stars.