Hi! This time I interviewed Ana Huang, author of the amazingly awesome book "All I've Never Wanted".
1) What inspired you to write "All I've Never Wanted"?
All I've Never Wanted was actually inspired by an Asian drama I saw when I was sixteen called Meteor Garden. (There's also a Korean version called Boys over Flowers and Japanese/manga version called Hana Yori Dango). I really liked the plot and thought it would be fun to put my own twist and characters into the story.
2) How did you come up with the character names and are their personalities based on your life?
I chose their names based on names I actually like and what I think works best for their personality. I also wanted a pretty diverse cast so their names reflect that. Maya's half-Chinese, half Swedish, hence the last name Lindberg; Carlo's Hispanic, Roman is part Italian, etc. Some of their personalities are definitely based on people I know in real life--for example, her grandmother is based on my own grandma, except mine isn't quite as crazy! Others I added because I thought they can contribute to the group and the story as a whole.
3) If you had to choose one of the four Scions, which one would you pick and why?
Hmmm....that's a hard one, but if I had to choose, I would go with Parker. Personally, Roman is my favorite, but he is a little controlling and hot-headed for a real-life boyfriend. Parker is smooth and charming, some might say too smooth and charming, but he is also very sweet and loyal when it's the right girl. Plus, he's not exactly hard to look at!
4) What did you learn from writing this book?
This was the first full-length novel I ever wrote, and I think the main thing I learned was patience and perseverance. Before I wrote it, I had all these scenes that I wanted to include, and I had to learn how to not rush through a story just to get to those scenes. I had to build the plot believably. In addition, I got writer's block a few times, which was frustrating and almost made me want to give up, but I pushed through it and I'm so glad I did!
5) What are you working on now? What is your next project?
Right now I'm working on re-writing another one of my stories for publication. It's called If We Ever Meet Again and is also on Wattpad. That story is more mature and realistic (it's a college romance) and it's based loosely on my own study abroad experiences. For All I've Never Wanted, I mainly just edited it, but I'm actually re-writing If We Ever Meet Again--putting in new scenes, cutting out old ones, etc. At the moment, I haven't decided if I will self-publish again or submit it to a traditional publishing house, but regardless, I'm very excited about this project!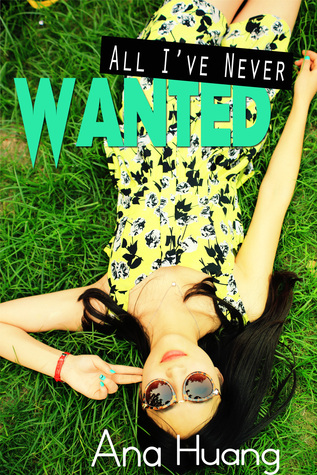 Don't forget to check out my review
here