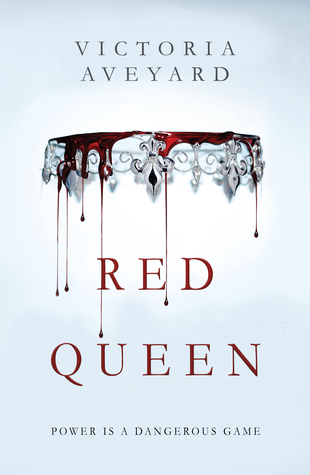 Book Blurb (from Goodreads)
The poverty stricken Reds are commoners, living under the rule of the Silvers, elite warriors with god-like powers.

To Mare Barrow, a 17-year-old Red girl from The Stilts, it looks like nothing will ever change.

Mare finds herself working in the Silver Palace, at the centre of
those she hates the most. She quickly discovers that, despite her red blood, she possesses a deadly power of her own. One that threatens to destroy Silver control.

But power is a dangerous game. And in this world divided by blood, who will win?
My Review
There was a lot of hype surrounding this book making me nervous to pick it up but I have to say that I thoroughly enjoyed it. I read it in about two day, and it as some of the best world building and complicated characters that I have ever seen.
The plot in this book was... exciting.... confusing.... deceiving... and full out awesome. There I have summoned it up for you. I will admit that this is a very character driven book. Not only do the choices that Mare makes drive the book along but the choices of the sub characters had major impacts with consequences as well. It was kind of slow at the beginning and then it sped up and then there is something that you just don't expect and you come squeaking to a halt, re-read the pages a couple times to make sure that you understood what the hell just happened correctly and then the book just seems to be glued to your hands and you just can't put it down.
Mare was a strong character in so many ways physically and emotionally. She could hold a lot of responsibly without breaking but if it became to much for her she wasn't afraid to seek help, making her more realistic. Her choices were sane, most of the time, although sometimes she could also be a bit naive. For the other characters I can't really talk about, just because I really don't know how. What I would give to go into just one of their heads for one chapter. Each sub-character had their own agenda. They each wanted something and had a consequence if they didn't get it or did get it, although some were more severe then others. I really do not trust anyone anymore apart from Mare.
Overall I give this book 5 out of 5 stars and I cannot wait for it's sequel