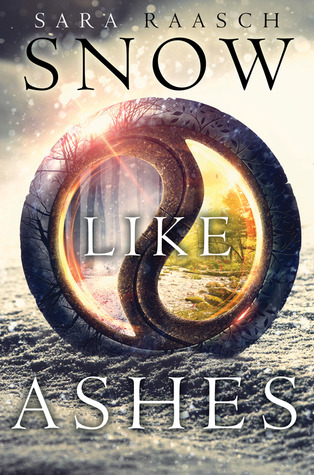 Book Blurb (from Goodreads):
A heartbroken girl. A fierce warrior. A hero in the making.

Sixteen years ago the Kingdom of Winter was conquered and its citizens enslaved, leaving them without magic or a monarch. Now, the Winterians' only hope for freedom is the eight survivors who managed to escape, and who have been waiting for the opportunity to steal back Winter's magic and rebuild the kingdom ever since.

Orphaned as an infant during Winter's defeat, Meira has lived her whole life as a refugee, raised by the Winterians' general, Sir. Training to be a warrior—and desperately in love with her best friend, and future king, Mather — she would do anything to help her kingdom rise to power again.

So when scouts discover the location of the ancient locket that can restore Winter's magic, Meira decides to go after it herself. Finally, she's scaling towers, fighting enemy soldiers, and serving her kingdom just as she's always dreamed she would. But the mission doesn't go as planned, and Meira soon finds herself thrust into a world of evil magic and dangerous politics – and ultimately comes to realize that her destiny is not, never has been, her own.
My Review
This was a book that took some time to get into, but then kept me hooked until the last page!
This is also a fantasy book, set in Primoria, a world with eight different Kingdoms based on the seasons. The King of Spring, has become greedy though and took over Winter. Meira is an orphaned soldiers and is one of the last few Winterian rebels. Together with the future king Mather, she is trying to save her kingdom.
This book created an interesting fantasy world revolving around the Seasons. It interested me a lot and the storyline was also really good. The plot itself took way too long to pick up though, it took me almost until half of the book to get hooked by the book. The first half was interesting while I was reading it but didn't motivate me to keep on reading. Only later on, when the plot thickened, did the book captivate me. The plot kept on thickening, until the epic reveal, that seemed kind of surprising to me and yet I wasn't very surprised. The reveal still blew my mind though, because there were hints throughout the entire book!
Meira was an interesting character but I couldn't really relate to her.Her urge to protect Winter was understandable to some degree until it bordered on outright patriotism. I liked that she was a strong female character, who knows how to fight even though her personality didn't really click with mine. My favourite character was probably the Prince Theron. He just seemed like a really nice, calm and collected person.
I did end up enjoying this book quite a lot. Especially the plot twist at the end is really cleverly concealed throughout the entire book. The pace of the plot took a while to pick up, that's why I didn't really enjoy the beginning that much. Therefore I give this book 4 out of 5 stars!