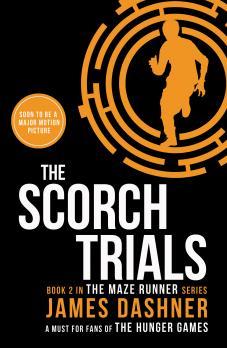 Book Blurb (from Goodreads):
Solving the Maze was supposed to be the end.

Thomas was sure that escape from the Maze would mean freedom for him and the Gladers. But WICKED isn't done yet. Phase Two has just begun. The Scorch.

There are no rules. There is no help. You either make it or you die.

The Gladers have two weeks to cross through the Scorch—the most burned-out section of the world. And WICKED has made sure to adjust the variables and stack the odds against them.

Friendships will be tested. Loyalties will be broken. All bets are off.

There are others now. Their survival depends on the Gladers' destruction—and they're determined to survive.
My Review
I think that this book was as good as the other book. Ties change, bonds break and loyalties shift. Traitors rise and unexpected people help the Gladers through their next trial of surviving the scorch to get to the safe haven.
In the Maze Runner, I thought that Minho was my favourite character because he was funny and nice. But in this book Minho became really bossy and annoying because he became the leader of the group. My new favourite character is Newt because he is nice and understanding. I don't understand why I like him but he is just amazing.
I can't exactly describe how amazing this book is but I can say that I can give it 5 out of 5 stars!